Atlas Honda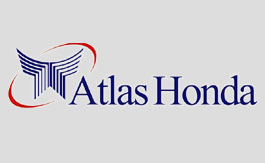 Atlas Honda Limited (AHL) is a joint venture between the Atlas Group and Honda Motor Co. Ltd., Japan. The company was created by the merger of Panjdarya Limited and Atlas Autos Ltd. in 1988. Both these motorcycle manufacturing concerns were established by the Atlas Group. In addition, a third concern, Atlas Epak Ltd. was taken over by the Government of Bangladesh in 1971 after the fall of Dhaka.

AHL manufactures and markets Honda motorcycles in collaboration with Honda Motor Company. The Company also manufactures various hi-tech components in-house in collaboration with leading parts manufacturers like Showa Atsumitech, Nippon Denso and Toyo Denso. Honda motorcycles are by far the largest selling motorcycles in the country with an unmatched reputation for high quality, reliability and after-sales-service.
Services Done

YEAR
PLACE
Department / Unit
Work to be Done
up to 2016
Atlas Honda Pvt Ltd.
Renovation of office block
Electrical Services at Saddar office
Gallery Karachi
R & D Office"
"Wiring Installation
Switchgear Equipments Installation
Light Fixtures & Fans Installation
Installation Of Busway Installation
Data Network System Installation
CCTV System Installation
Fire Alarm System Installation
Earthing System Installation"