ATLAS METAL INDUSTRIES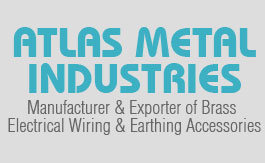 ATLAS METAL INDUSTRIES is functioning at jamnagar (Gujarat) leading in manufacturing and exporting of Electrical Wiring & Earthing Accessories.
Our Wide range of Product categories into 4 major segments:-
1: Cable Glands & Accessories. 2: Earthing Accessories. 3: Cable Lugs. 4: Conduit Fittings.
Services Done

YEAR
PLACE
Department / Unit
Work to be Done
up to 2016
Atlas Metal Pvt. Ltd
Factory Landi Karachi
"Wiring Installation
Switchgear Equipments Installation
Light Fixtures & Fans Installation
Installation Of Busway Installation
Data Network System Installation
CCTV System Installation
Fire Alarm System Installation
Earthing System Installation"